Introduction
---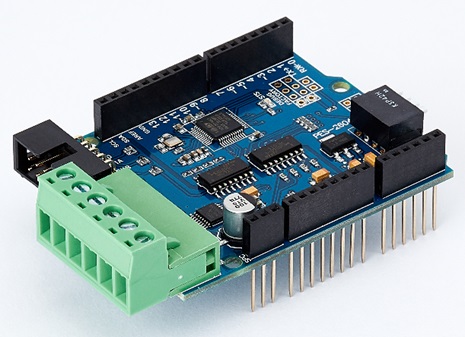 PES-2604
PES-2604, DC motor controller, is a smart expansion board for PHPoC shield for Arduino. You can easily control two brushed DC motors with this board via the Arduino sketch.
Highlights of PES-2604
brushed DC motor controller
dual DC motor ports with encoder ports
motor voltage: 4 ~ 18V [DC]
motor current: Maximum 1A on each port
※ Caution : Both a PHPoC shield with R2 or later version and an Arduino board are required to use this board!
What is the Smart Expansion Board for PHPoC shield?

A smart expansion board for PHPoC shield has own devices and firmware. This board communicate with a PHPoC shield in a master-slave protocol through the designated port. Two or more smart expansion boards can be connected to one PHPoC shield and each of them required to be setting a slave id.
---