Connecting to an AP
---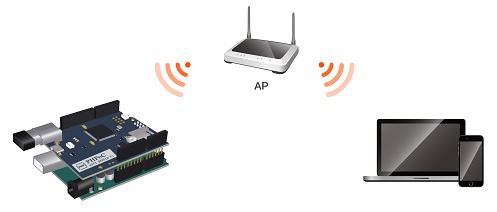 Infrastructure mode is the most common wireless LAN mode that connects wireless networks around an AP(Access Point). Set this mode to connect the shield to your local network or the Internet.
Connect Shield to an AP
Connect to the web setup page of shield according to the instructions of Set for the First Time.

Move to the SETUP page.

Click the [NETWORK] > [Wi-Fi] menu.

Press the [Search] button of [SSID] after selecting the [Wi-Fi Mode] to [Infrastructure].

Choose an AP on the list and press the [Select] button.

Input the Wi-Fi password to the [Shared Key] box and click the [SAVE].

Setting is done if the message is shown.
Refer to the instruction of Manual IP setup, if you want to use a static IP address.
---