Remote Connection
---
The remote connection function is to connect the PHPoC debugger and the product via the network instead of the USB cable. Even with a remote connection, you can use almost all of the functions such as product settings, script editing and debugging. For a remote connection, the product must have a remote connection setup.
※ How to set up remote connections for PHPoC products
Remote connection procedure
Select COM Port as [Network] and click Connect(

) button. Select the [COM Port] as [Network] and click Connect button.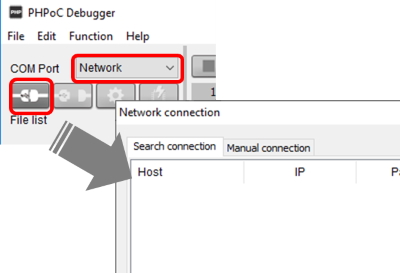 Press the [Connect] button after setting the IP address, URI path, port and selecting protocol.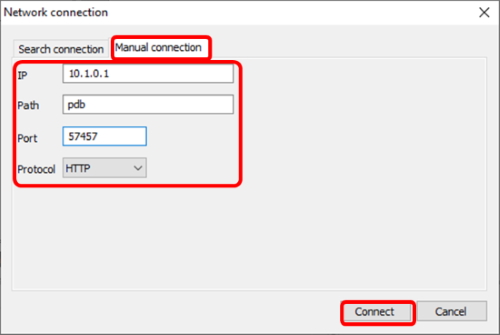 Address
This is the IP address of the product.

URI Path
This is the URI Path of the product. Each product has its own URI path specified.

Port
This is the port for remote connection. Each product has one port number.

Protocol
This is the protocol for remote connection. Select HTTP if the product's remote connection protocol is pdb-ws, or HTTPS if pdb-wss.
※ You can find the URI Path, Port and the protocol value on the [PDB Net] tab of the [Network Information] window.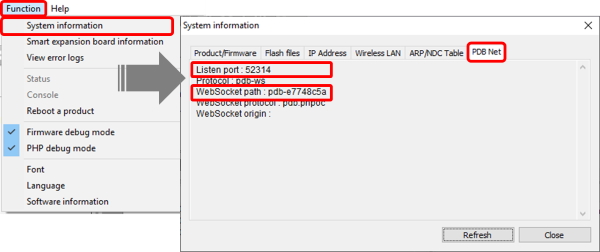 Searching products
If the PHPoC product is on your PC's local network, you can use the product search function. If you click the [Search] button in the [Network Connection Settings] window, all the PHPoC products connected to the local network are searched.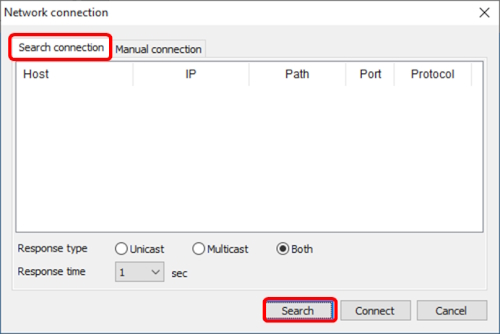 Response Type
You can select the response type when the response packet is sent by the PHPoC product that received the search packet.  If Unicast is selected, the response packet is sent only to the PC that sent the search packet.  Selecting Multicast sends a response packet to all hosts in the Multicast group.

Response Time
Depending on network environment, you can increase response latency by adjusting this value if the response packet is delayed and the discovery fails.  You can choose from 1, 2, 4, or 8 seconds.
Select the product and click [Connect] button to try remote connection immediately.
Restrictions
Uploading Firmware, creating & saving a certification and creating & changing a password are not available on the remote connection. Please connect your product via USB cable to use these functions.
---