Uploading Files to PHPoC
---
Php files in local PC can be uploaded to PHPoC.
How to Add Files to File list
Select and drag files on Window explorer to file list box and drop them.

If you click [Add] after right-clicking in the file list box, a window for selecting files will be created. Selected files on the windows will be added to the file list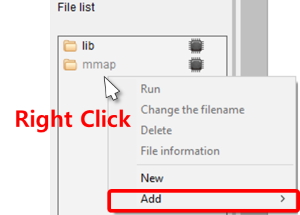 Upload files
Files in the file list will be uploaded to P4S-341 by clicking upload (

) button. If the uploading is completed, both files on the file list and in P4S-341 are synchronized and the icons are changed to (

).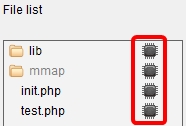 Upload an Integrated File(.poc)
You can upload an integrated file (.poc) with procedures below.
Click [File] > [Upload a poc file] menu.

Click [Open] after selecting a poc file.

Click [Upload flash files] button.

Choose yes or no about deleting existing flash files.

※ Caution: If you choose [Yes], all flash files stored in PHPoC are deleted.

Click [OK] to finish upload a poc file
---