P4M-

400
---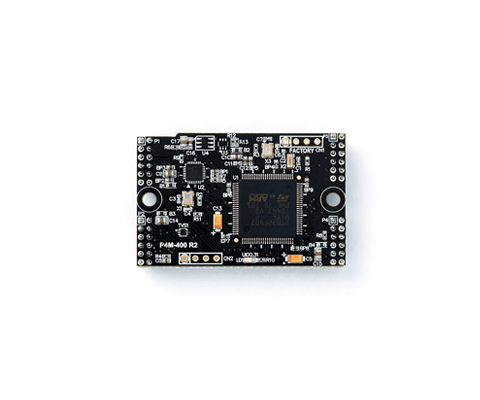 The P4M-400 is a module type of PHPoC IoT Board. It has functionalities of PHPoC IoT Board. The module is designed to be intergrated into other products.
The module supports 10/100M Ethernet as well as IEEE802.11b/g Wireless LAN connectivity, various network protocols, security protocols, authentication and encryption algorithms.
In addition, the module has various interfaces such as ADC, UART, SPI, I2C, hardware timer, digital input/output, etc, which can be used to connect with sensors/actuators.
With natures of PHPoC, PHPoC Module can be used to create IoT devices easily and quickly.
The evaluation board for PHPoC Module is available for to quickly doing proof-of-concept prototypes before beforing designing custom circuits.
---
Modular PHPoC
PHPoC Interpreter
Provides simple development environment via USB
10/100Mbit Ethernet
IEEE802.11b/g Wireless LAN
26 x Digital I/O
4 x Analog input port
2 x UART port

4 x hardware timer
I2C and SPI interfaces
32.768KHz crystal as RTC clock source
Full TCP/IP stack
Embedded Web server and WebSocket server
Various network protocols such as SMTP, ESMTP (for sending email), DNS, MySQL, Telnet, SSH,etc
Real-time debugging source code via PHPoC Debugger
Hardware

---

Power
Input
DC 3.3V (±0.3V)
Current Consumption
Typical - about 110mA (* without USB WLAN adapter)
Power Down mode - less than 200uA

---

Interface
Network
10/100Mbps Ethernet
IEEE802.11b/g Wireless LAN (require Ralink
RT3070/5370 chipset Wireless LAN Adapter)
USB
USB Host - for WLAN adapter
USB Device - for PC
Digital I/O
maximum 26 ports
Analog Input
ADC_CH0 ~ 3, AREF, 12-bit resolution
Hardware Timer (HT)
HT0 ~ 3, toggle/pulse/pwm output and capture mode
UART
2 X UART Ports(UART0 ~ 1), Baudrate: 1,200 bps ~ 230,400 bps
SPI
NSS, SCK, MISO, MOSI
I2C
SCL, SDA

---

Wireless LAN
WiFi Security
WPA-PSK / WPA2-PSK, WPA-Enterprise(TTLS/PEAP)

---

Temperature
Storage/Operating
-40℃ ~ 85℃

---

Dimension
50mm x 32mm x 9mm

---

Weight
about 8g

---

Environment
RoHS Compliant


Introduction
PHPoC Solution
Part Number
Part Component
Description

P4M-400-SKE

P4M-400 Starter KIT
P4M-400
Evaluation Board
USB Wireless LAN Adapter
1.5m Micro USB Cable
1.5m LAN Cable
PHPoC User Card

P4M-400-DKE

P4M-400 Developer KIT
P4M-400 x 3pcs
Evaluation Board x 2pcs
USB Wireless LAN Adapter x 2pcs
1.5m Micro USB Cable x 2pcs
1.5m LAN Cable x 2pcs
PHPoC User Card

P4M-400-20EA

P4M-400 x 20pcs

P4M-400-100EA

P4M-400 x 100pcs
Optional Accessories
Description
Note

PHPoC Lever


PHPoC De-Stack Lever