PHPoC

Black

l P4S-341
---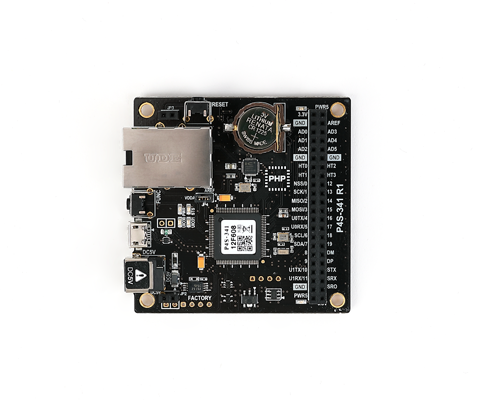 PHPoC Black (P4S-341) is a wired LAN programmable IoT board. It is designed to make IoT development become easier and more convenient than ever.
Besides having various interfaces to interact with sensors/actuators, PHPoC Black is equipped with Ethernet connectivity. It supports various network protocols, security protocols, authentication and encryption algorithms, meeting all requirements for creating IoT projects and devices.
PHPoC Black uses PHPoC language for programming, which facilitates users in creating IoT applications. Ideas can be realized quickly and easily through some lines of code. Equipped with the Web server and WebSocket server, PHPoC allows users to develop the real-time Web applications for their IoT systems. Monitoring sensors and controlling actuators will be much more convenient.
Additionally, PHPoC Black can be used in combination with PHPoC expansion board to add the advanced capabilities, flexibility and extendibility.
If you need a similar product but for Wireless LAN connectivity, see PHPoC Blue.
---
PHPoC Interpreter
Embedded Web server and WebSocket server
Real-time debugging source code via IDE
Ethernet: 10Base-T/100Base-TX Ethernet (RJ45)
Full TCP/IP stack

Various networking protocols
Digital I/O, SPI, I2C, UART, ADC, Timer/Counter
RTC (Real-Time Clock)
Various stackable expansion boards
RoHS Compliant
Hardware

---

Processor
Core
Cortex-M4 168MHz
Flash
System-512K Bytes, User-512K Bytes
SRAM
192K Bytes

---

Wired LAN
Ethernet
10Base-T/100Base-TX Ethernet (RJ45)

---

Network Protocols
Communication
IPv4/IPv6 Dual Stack
TCP/UDP
ICMP, DHCP, HTTP, Telnet, SSH, SMTP, ESMTP, DNS, DDNS, MySQL
Security
SSL/TLS

---

Digital I/O
Type
3.3V CMOS level digital I/O
Ports
10 x DIO dedicated (8 x User, 2 x LED)
14 x DIO shared (with SPI, I2C, 2 x UART)
Mode
Input/Output, push-pull/open-drain, pull-up/pulldown

---

Communication Interface
UART
2 ports (RXD, RXD, RTS, CTS) with hardware
flow control, Baudrate: 1,200 bps ~ 230,400 bps
SPI
NSS, SCK, MISO, MOSI
I2C
SCL, SDA (100Kbps or 400Kbps)
SPC
STX, SRX, SRO

---

ADC
Resolution
12 bits
Channels
6

---

Hardware Timer/Counter
Mode
PWM output, Pulse output, Toggle output, Capture
Unit
milliseconds or micro-seconds
Channels
4

---

RTC (Real-Time) Clock
Battery
40mAh lithium coin
Peripherals
Realtime Clock, 4KB Backup SRAM

---

LED
System LED
Power, Status, 3.3V, PWR5
User LED
uio0.30, uio0.31

---

USB Interface
USB Device
PC interface for programming

---

Power Output
Input 1
DC 5V (±0.5V) from DC jack
Input 2
DC 5V (±0.5V) from USB Device Port
Max Input Current
DC jack: 1.5A, USB device port: 500mA
Current Consumption
Typical - about 110mA
Power Down mode - less than 200uA
Output Voltage
Approximate 5V and 3.3V
Max Output Current
5V: 1.5A, 3.3V: 800mA, PWR5 & 3.3V: 1.5

---

Dimension
Dimension
66.5mm x 63.8mm x 13mm
Weight
30g

---

Temperature
Storage /Operating
-40℃ ~ 85℃

---

Environment
RoHS Compliant


Introduction
PHPoC Solution
Project
Tutorial
| | | |
| --- | --- | --- |
| Part Number | Description | Note |
| P4S-341-BO | P4S-341 Body | |
| Optional Accessories | Description | Note |
| UC2 | Micro USB Cable Datasheet | |
| PHPoC Lever | PHPoC De-Stack Lever | |