P5H

-151
---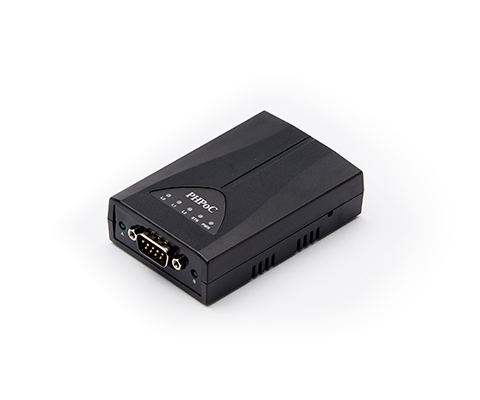 P5H-151 is a programmable IoT Gateway.
It can be connected to a network and has various built-in security protocols and encryption algorithms. By using P5H-151, different network-related systems can be built by interworking with not only a PC, but also multiple user devices.
Since P5H-151 is equipped with an RS232 port, serial devices capable of RS232 comminication can be linked through the network. P5H-151 is embedded with a PHPoC interpreter, letting you pre-process data as you want before exchanging by writing a the simple PHPoC script.
It is very flexible to create customized devices to meet diverse needs.
Moreover, P4H-151 comes along with an embedded web server, letting you do system settings, control and monitor your equipment via web browser from a remote site. P5H-151 is a great choice to build customized IoT gateway solutions to interact with your existing systems.

---
PHPoC Interpreter
Serial device control & monitoring via web

Ethernet 10Base-T or 100Base-TX
Various networking protocols

1 x RS232
User-customized webpage
Hardware

---

Serial Physical Interface
Serial Interface
RS232
RXD, TXD, GND, RTS, CTS, DTR, DSR, DCD, RI
Connector
9 pin D-sub male

---

Serial Port Property
Baudrate
1,200 ~ 230,400bps
Data Bits
8 bits, 7 bits with Parity
Parity
None, Even, Odd, Mark, Space
Stop Bit
1, 2

---

Network Physical Interface
Network Interface
10Base-T/100Base-TX Ethernet (RJ45)
Ethernet Speed Auto Sense
1:1 or Cross-over Cable Auto Sense

---

Software Functions
Protocols
IPv4/IPv6 Dual Stack
TCP/UDP
ICMP, DHCP, HTTP, mDNS
SSL/TLS

---

Indicators
LED
PWR, STS, L0, L1, L2, A, B

---

Management
PHPoC Debugger
Configuration and Programming Tool
Security
Password

---

Processor
Core
Cortex-M4 480MHz
Flash
System - 1M Bytes, User - 1M Bytes
SRAM
1M Bytes

---

RTC
Capacitor
100uF
Peripherals
Realtime Clock, 4KB Backup SRAM

---

Dimension
Size
89mm X 57mm X 24mm
Weight
about 68g

---

Operating Environment
Input Voltage
DC5V±0.5V
Protection
Reverse Voltage Protection / Surge Protection
Current Consumption
typically 273mA
Operating Temperature
-40℃ ~ +85℃
Storage Temperature
-40℃ ~ +85℃

---

Certificate
KC
Registration (KN 32, KN35)
CE
EMC 2014/30/EU, RoHS 2011/65/EU
FCC
FCC Part 15 Subpart B, Class A