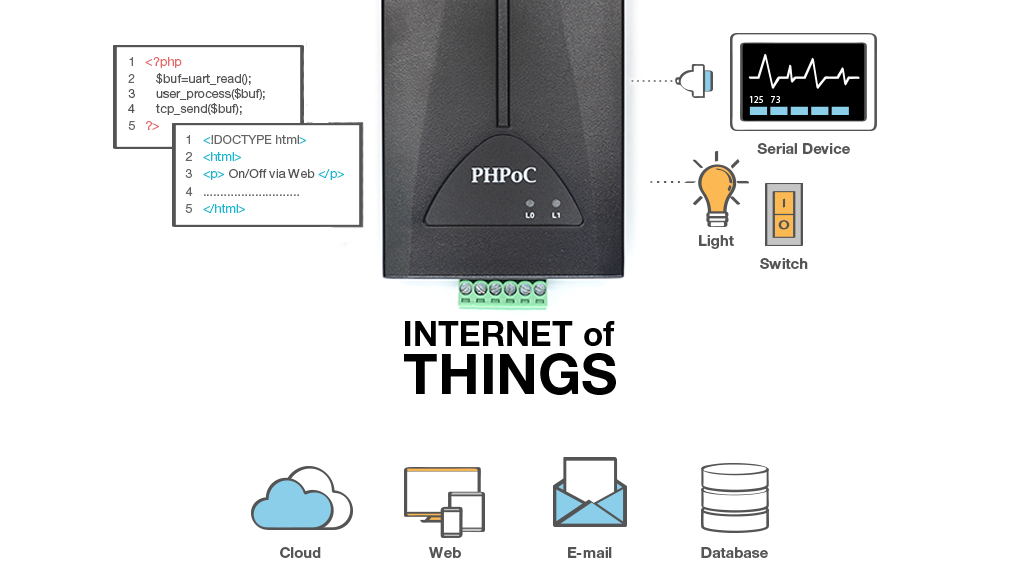 It is a specific-purpose product line, which is designed to make the development of custom IoT gateways or commercial/industrial products easier. For engineers, IoT-makers or entrepreneurs, things can be done quickly without concern about hardware/mechanical design. This product line is equipped with RS232/RS422/RS485 ports, which allows users to collect data from serial devices. Users can pre-process data before sending it over the Internet, and vice versa. Some of products are equipped with relays and dry/wet contacts, which can be used to control/monitor ON/OFF state of high-voltage devices. This product line comes along with a solid case and industrial hardware specifications, helping reduce manufacturing process.
Sensors/Actuators Interfaces
PHPoC IoT Gateway has two types of interfaces to sensors/devices: Serial Ports (RS232, RS422, or RS485) and I/O Ports (dry/wet contact for input and relay for output)
Networking Capabilities
PHPoC IoT Gateway has both Ethernet and Wi-Fi connectivities. It supports various network protocols (IPv4/IPv6, TCP/UDP, ICMP, DHCP, HTTP, SSH, SMTP, ESMTP, DNS, DDNS, MySQL ...), security protocols (WPA-PSK / WPA2-PSK, WPA-Enterprise, SSL/TLS) and encryption algorithms.
Industrial Case
With a solid case equipped and industrial operating conditions featured, PHPoC IoT Gateway allows users to develop industrial IoT products without concern about hardware/mechanical design.
Who can use PHPoC IoT Gateway?
Engineers and IoT-makers can use this product line to quickly create the commercial devices without requiring manufacturing process. They just need to develop the source code and upload to the devices.


IoT Data Integration Solution>