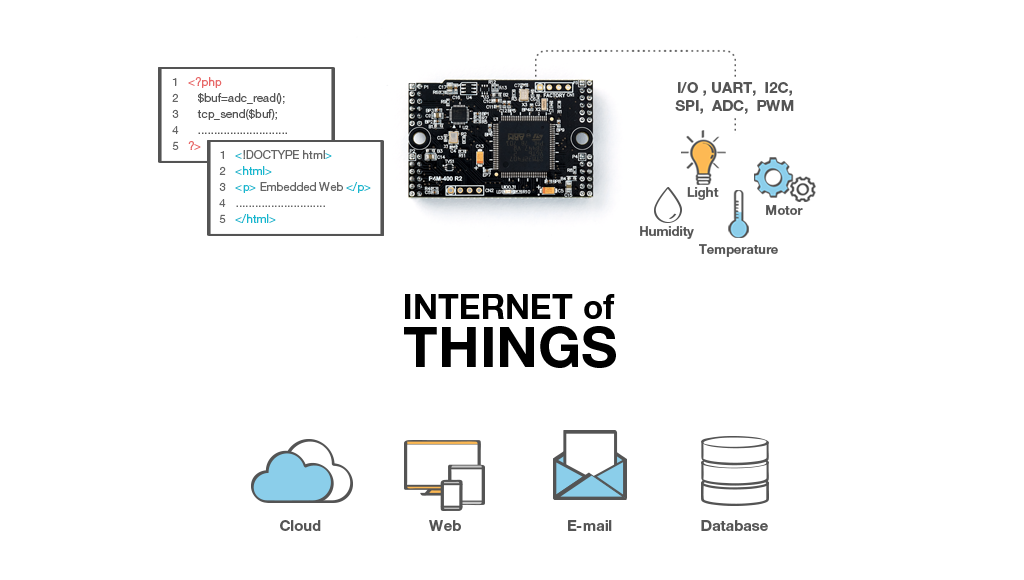 This is a product line which has all features of PHPoC IoT Board. The difference is that it has small size. PHPoC IoT Module is designed to be integrated into another systems or products.
Sensors/Actuators Interfaces
PHPoC Module has most of basic hardware interfaces (I/O, UART, I2C, SPI, ADC, TIMER/COUNTER, RTC), which are used to interact with sensors or actuators.
Networking Capabilities
PHPoC Module has both Ethernet and Wi-Fi connectivities. It supports various network protocols (IPv4/IPv6, TCP/UDP, ICMP, DHCP, HTTP, SSH, SMTP, ESMTP, DNS, DDNS, MySQL ...), security protocols (WPA-PSK / WPA2-PSK, WPA-Enterprise, SSL/TLS) and encryption algorithms.
Small Size
With its compact size yet powerful functionality, PHPoC Module is absolutely suitable to be integrated into your hardware, to be the brain of your products. It is here to reduce your development cost and to get your product to the market faster.
Who can use PHPoC IoT Module?
IoT-makers

or

entrepreneurs

: When new ideas come up, IoT-makers or entrepreneurs can use PHPoC Module to quickly make a prototyping product. Besides, PHPoC Module can be used along with custom enclosure to create manufacturable products, while minimizing development time and cost. It is specially useful in case shape and size of products are critical.

Engineers

can integrate PHPoC Module in order to make smart things for smart cities or smart industry. You can control or monitor the factory from everywhere, when you are in field site or during a business trip. With the help of PHPoC Module, the whole factory can fit into your hand.