PBH

-204
---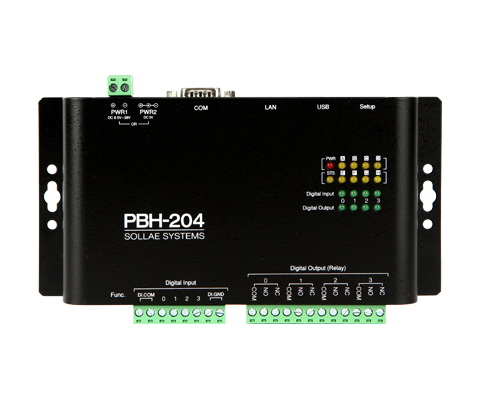 PBH-204 is a programmable IoT device, which connects to the Internet via wired or wireless LAN. It supports various networking and security protocols, and encryption algorithm.
PBH-204 is equipped with four high-voltage digital input ports and four relay output ports. This allows you to monitor and control the high-voltage equipment through the Internet according to your own way.
It is equipped with one serial interface to connect and communicate with sensors or equipment which supports RS232, RS422, or RS485. This allows you to collect data from serial equipment/sensors and send it to various systems through the Internet, and vice versa.
PBH-204 is embedded with a PHPoC interpreter, letting you pre-process data as you want before exchanging by writing a the simple PHPoC script. It is very flexible to create customized devices to meet the diverse needs.
Moreover, PBH-204 comes along with an embedded web server, letting you do system setting, control and monitor your equiptment via web browser from a remote site. PBH-204 is a great choice to build customized IoT gateway solutions to interact with your existing systems.
---
PHPoC Interpreter
Embedded Web server and WebSocket server
Real-time debugging source code via IDE
Ethernet 10Base-T or 100Base-TX (Auto-Sensing)
IEEE 802.11b/g Wireless LAN
Full TCP/IP stack

Various networking protocols
4 x high-voltage digital input port
4 x high-voltage digital output port
1 x RS232/RS422/RS485
Industrial temperature range (-40℃~+85℃)
RoHS Compliant
Hardware

---

Power Input
PWR1
DC8.5V~DC38V with Polarity Auto Recovery Function
PWR2
DC5V ±5% with Reverse Voltage Protection and Surge Protection
Setup
DC5V ±5% with Reverse Voltage Protection
Power Consumption
Typically 4.2W(Without USB Wireless LAN adapter)

---

Wireless LAN
Interface
IEEE802.11b/g Wireless LAN with a USB dongle
Mode
Ad-hoc, Infrastructure, Soft-AP
Wi-Fi Security
WPA-PSK / WPA2-PSK, WPA-Enterprise (TTLS/PEAP)

---

Wired LAN
Ethernet
10Base-T or 100Base-TX(RJ45) Ethernet

---

Network Protocols
Networking protocols
IPv4/IPv6 Dual Stack
TCP/UDP
ICMP, DHCP, HTTP, Telnet, SSH, SMTP, ESMTP, DNS, DDNS, MySQL
Security
SSL/TLS

---

USB Interface
USB A Connector
Ralink RT3070/5370 USB Wireless LAN dongle for Wireless LAN
USB B Connector
For PC connection to upload/download user PHPoC script

---

DIO
Digital Input
4 Input Ports with Photo-coupler Isolation
Digital Output
4 Output Ports with Relay Out Interface

---

Serial Interface
RS232
RXD, TXD, RTS, CTS, DTR(Always ON), GND
RS422
TX+, TX-, RX+, RX-, GND with embedded 100K biasing resistors and TVS
RS485
TRX+, TRX-, GND with embedded 100K biasing resistors and TVS

---

LED
Power
Red
Status
Yellow
DI/DO
Green
User Programmable LED
LED A~H(Yellow)

---

Dimension
180mm X 110mm X 26mm
| | | |
| --- | --- | --- |
| Solution | Tutorial | Tutorial |
| | | |